Tumski Bridge under repair
Having been closed on 16th July, the Tumski Bridge has turned into a building site. The first group of padlocks that has been removed from the bridge weighs 4.6 tons. The repair will last a few months.
You can bypass the crossing under repair across Młyńskie bridges and Rev. Zienkiewicz Boulevard.
The repair includes the cleaning and repair of stone pillars of the bridge, the repair of the roadway, the renovation of pavements, cleaning by means of sanding and the new coating of steel parts of the bridge, the repair and replacement of destroyed and corroded elements, and the supplementation of missing rivets.
After the completion of works, it will not possible to hang new padlocks for the next 10 years.
The contractor's task is also to restore historic street lamps near the lime statues of saints: John the Baptist and Hedwig. On the occasion of the current repair, the illumination of the bridge will also be replaced.
No repair since the war
The Tumski Bridge is a historic building; it has existed in its current shape since 1889 and its structure has actually not been repaired since the war.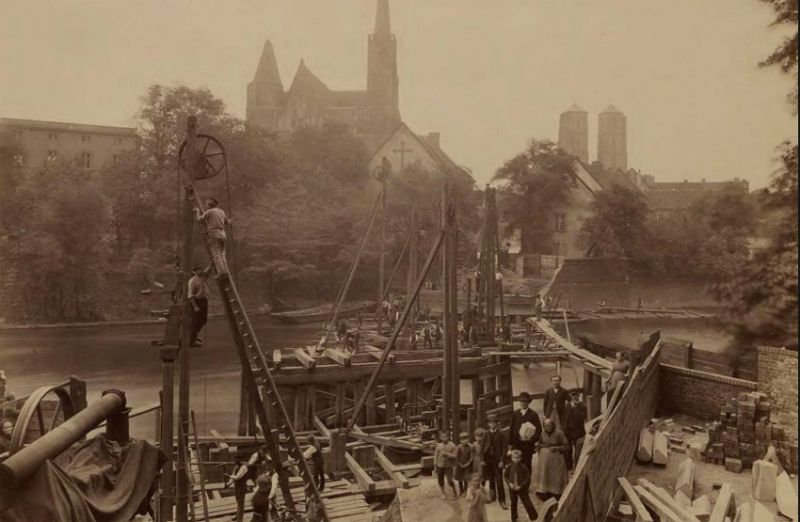 (The construction of the Tumski Bridge, photo: fotopolska.eu)
After the war, only bitumen pavements and corrosion protection were made there (cleaning and painting with a turquoise coat). Such works were performed for the last time over 20 years ago and the bridge needs another repair.

Janusz Krzeszowski