Take Over Wro: Hunting for Krasnale
Wroclaw may possibly be one of Poland's most charming and picturesque cities. Nestled both alongside and within the Oder, its centre contains 12 islands connected by 130 bridges. A rainbow of pastel coloured buildings surrounds one of Europe's largest medieval squares, towering gothic spires rise skywards, and each night a lamplighter sporting a dapper cape and top hat combo traipses the cobblestones to ignite the city's street lights. If this isn't enough fairytale imagery for you, then Wroclaw has something else up its sleeve; Dwarves.
You may just spot one to start with – a little bronze guy snoozing in a doorway or enjoying a meal outside a popular restaurant – but before long you will find that they are everywhere. In Wroclaw's city centre this legion of little people, known locally as Krasnale, are ubiquitous. You are just as likely to stub your toe and trip over one as you are to spy one relaxing on a window ledge. They clamber up lampposts, peek from alleyways and even pass out in a drunken stupor on the streets.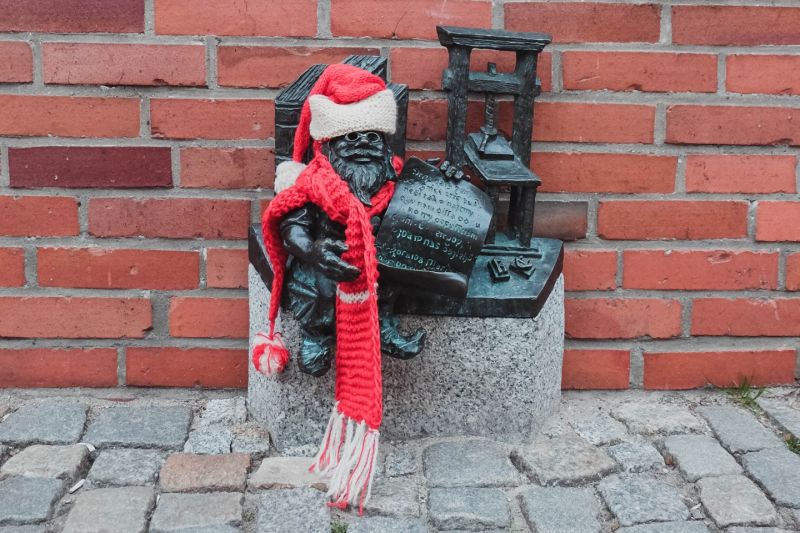 Although it may sound like I am hallucinating or living in a delusional fantasy world, Wroclaw's dwarves are a real thing. Standing at no more than a foot-tall, these little bronze characters ooze personality, each with their own character, detailed backstory and reason for existing. The official figure says that there are around 160 of these pint-sized figurines, but my research suggests that the number varies wildly. Some people say there are more than likely 300 of them, other sources suggest that over 400 are dotted around. Whatever the number is, it seems that these critters are running rampant.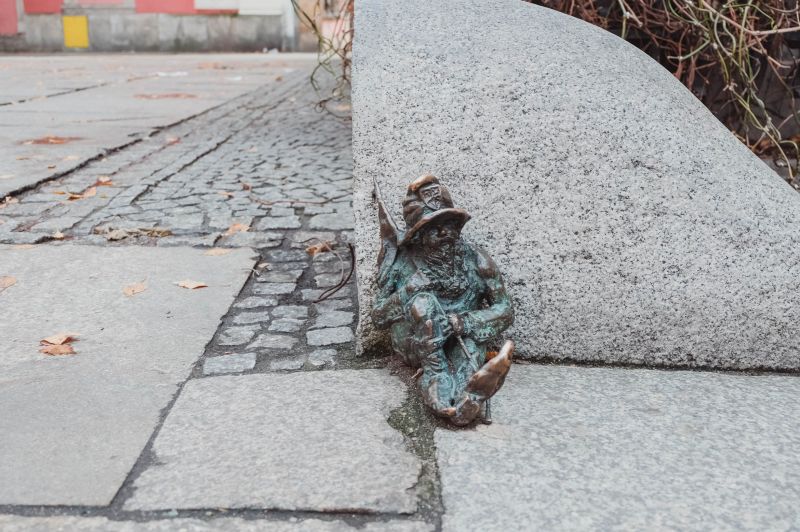 On my first morning in the city, I mooched around the old town square while waiting to meet someone, and spotted my first; a cheery fella lunging against a stone bench, his head thrown back in laughter as he clutched an enormous sunflower. Within an hour of exploring I had tripped over two firemen rushing with their hose towards a nearby emergency, caught my backpack on the outstretched arms of an icecream-munching gnome, and narrowly avoided stepping on a whole orchestra or characters performing a concerto outside the National Forum of Music.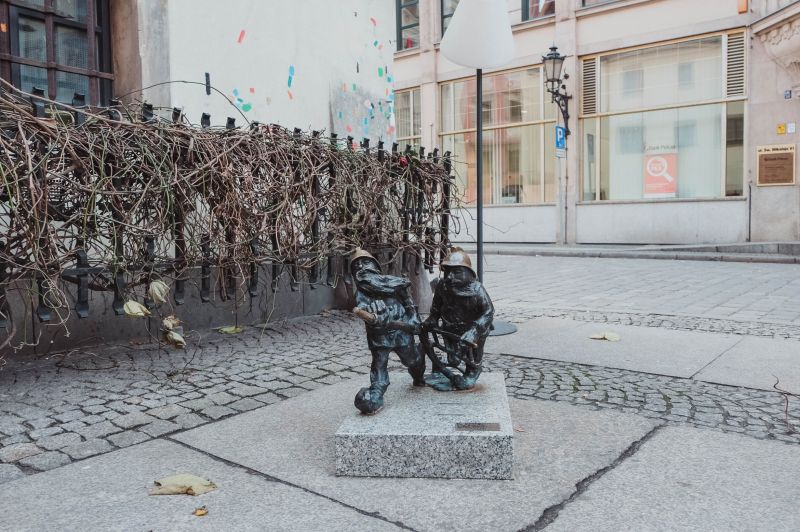 Although this may seem like a cute and slightly twee gimmick to attract tourists, they actually have a deeper meaning that harks back to a darker period in recent Polish history.
The statues are a nod to the Orange Alternative, an anti-Soviet movement that used absurdity to stage peaceful and subversive protests in an attempt to undermine Poland's communist government. Led by art student Waldemar 'Major' Fydrych, the group claimed the dwarf as its symbol, painting surrealist images – usually of a dwarf or gnome – over communist propaganda in an attempt to fight the oppressive regime's censorship of free speech and public gatherings. The idea was to "show how absurd the situation was and encourage people not to be afraid."
Over time, the movement became larger and the dwarf imagery gained popularity. Before long, they became an integral part of demonstrations. Fydrych led marches through Wroclaw's streets in the name of 'dwarves rights'. On International Children's Day in 1988, dozens of locals dressed as gnomes. At an anti-Chernobyl protest, the mayor even handed out peaked orange gnome hats to passing pedestrians. At an event known now as the 'Revolution of Dwarves', the movement culminated with 10,000 protestors marching on the city centre wearing conical hats and chanting "Freedom for the dwarves!".
Despite the Police trying to crack down on the protests, the subsequent arresting of gnomes only succeeded in making the authorities look ridiculous.
Following the fall of communism, the dwarves became a symbol of Wroclaw, repurposed as a tribute to the Orange Alternative protesters. The first statue to honour the anti-communist movement, known as Papa Krasnal, was unveiled in 2001 on the corner of ul. Świdnicka and ul. Kazimierza Wielkiego, the spot where many of the Orange Alternative's protests took place.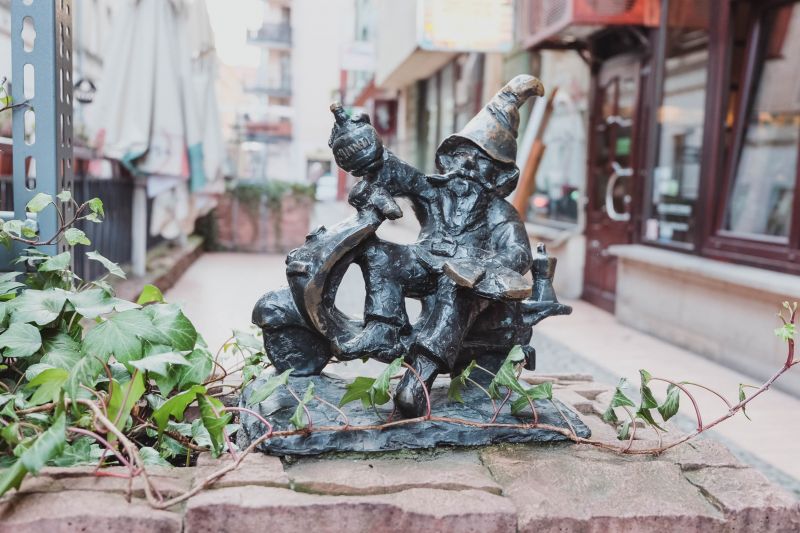 It wasn't until 2005 that things really started to take off. Local artist, Tomasz Moczek was commissioned by the council to create 5 more characters; the Odra-Washer-Dwarf near Piaskowy Bridge, a hatchet-wielding butcher outside the old medieval slaughterhouse, a fencer, and two of the little guys pushing a large boulder in opposite directions on Świdnicka Street. The figurines proved so popular that soon local businesses were commissioning artists to produce more. Before long, there was a gnome population explosion.
So far, Tomasz has created over 100 dwarves for local charities, shops, and organisations. While the official figure stands at 163, it is thought that over 400 of these little blighters are running rampant around the city. This is because there are many 'illegal dwarves'. The official process for businesses to get their own gnome can be a long and expensive process. Not all companies are willing to go through it.
This article belongs to Dave from Man vs Globe. Find out more about our dwarves here.