By bike
Data aktualizacji: 2022-12-15
Picturesque routes on the Oder, well-developed infrastructure and lots of places that are easiest to reach by bike – Wroclaw is a paradise for cyclists.
On the way to Wroclaw, lovers of long routes use international and domestic cycling routes running through the capital of Lower Silesia:
Route
EuroVelo 9 – the "Amber Route" from north to south, running from Gdańsk to Pula (Croatia). In Wroclaw, R-9 runs from north, from Pawłowice , via Psie Pole, Zacisze, Plac Grunwaldzki, Plac Dominikański, Plac Kościuszki, Plac Powstańców Śląskich, Al. Gen. J. Hallera, to Muchobór Wielki and farther towards Krzeptów.
The Oder Route – a 313 km long cycling route running through Wroclaw. The entire route: Chałupki – Racibórz – Kędzierzyn-Koźle – Zdzieszowice – Krapkowice – Opole – Brzeg – Oława – Wrocław – Brzeg Dolny – Lubiąż – Prochowice – Ścinawa – Głogów – Bytom Odrzański – Nowa Sól – Bojadła – Krosno Odrzańskie – Kłopot – Słubice – Kostrzyn on the Oder. In Wroclaw, the route sometimes divides into the northern part and the southern part, which run along both banks of the river. The route branches off at the level of the Opatowicka Island and, on the other side, at the intersection of ul. Milenijna and ul. Legnicka.
In Wroclaw, even up to 30,000 inhabitants use bikes every day. Their number grows every year – people of every age, including families with children, switch to bikes largely due to the introduction of new conveniences for cyclists.
Wroclaw on a bike
Those who regularly cycle through the city have a network of separated routes with contraflow lanes and bike boxes. This solution has civilised bike traffic in the city centre and on access routes and has largely improved its safety.
Passages under bridges are a great convenience allowing cyclists to travel through intersections without collisions.
In order to enjoy the status of a cyclist and use its benefits, you do not need to have your own vehicle. In Wroclaw, the Nextbike city bike system is active. It consists of stationary bike rental points.
In more than 200 points of Wroclaw, you can take a comfortable city bike (against a small fee) and ride ahead. In order to rent a bike, you have to register in the system via Wroclaw City Bike.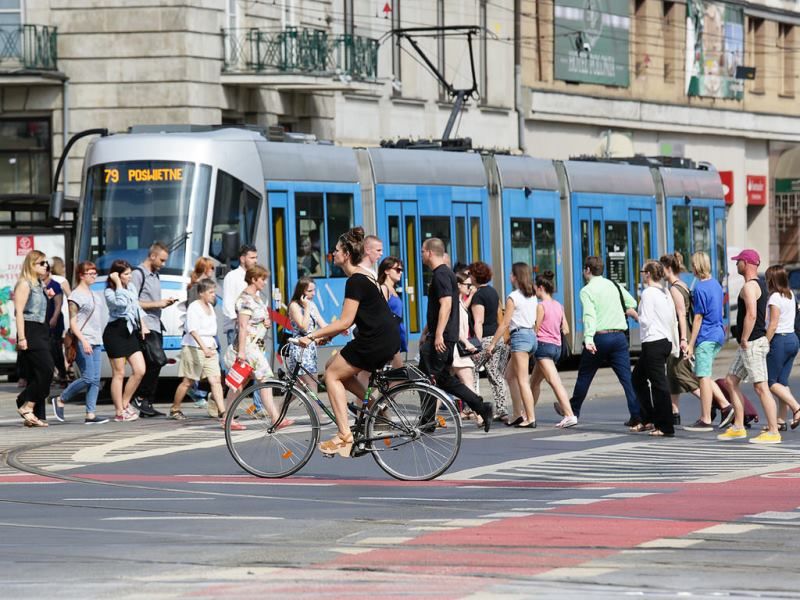 and its canals. Many cyclists have their favourite routes that run through parks.
The bicycle is an easier way to visit districts and housing estates located farther away from the city centre – Osobowice, Brochów, Krzyki, Karłowice, or the areas of the former harbour on the Oder. It is also worth taking a ride to the city borders to reach Pawłowice, Wojnowice, Trestno, Siechnice, Kotowice and Miękinia.
Events and attractions for cyclists
In the capital of Lower Silesia there are no elevations – height differences are minimal.
Wroclaw cycling lovers regularly initiate campaigns to promote this kind of activity:
bike exchange events and bike marking campaigns are organised;
the Critical Bike Mass – a ride of a few hundred cyclists across the city – usually takes place on the last Friday of the month.
the staircase of one of the tenement houses in the city centre is decorated with carefully restored city bikes or their parts. The result is amazing.
in the European Bike Challenge – an initiative promoted by the city council (its local version is 'Ride for Wro') where inhabitants of a few dozen cities from Europe try to ride the longest distance possible, Wroclaw inhabitants regularly rank in the forefront.
Initiatives involving vehicles with a gear rack, a bell and a derailleur gear constitute a very large part of projects being carried out under the Wroclaw Citizens' Budget (it is up to Wroclaw inhabitants to decide what is worth spending a few dozen million zlotys from the city budget).
You can find yourself in the exclusive company of Wroclaw cyclists, too.