By train
Data aktualizacji: 2022-12-15
Thousands of passengers arrive at and depart from the Wroclaw Główny railway station every day. People living near Wroclaw and tourists choose travelling by train because it is a reliable, cheap and comfortable means of transport.
Wrocław Główny is the destination point for many passengers and the most important railway hub in south-western Poland. Wroclaw has direct railway connections with other Polish metropolises: Wroclaw, Poznań, Katowice, Kraków. The railway is a popular means of transport for tourists arriving in Wroclaw from Germany and Czech Republic.
The developing regional connection network encompasses both the surroundings of Wroclaw and the biggest and most important provincial cities of the province. You can get by train, e.g., to Legnica, Jelenia Góra, Wałbrzych, Trzebnica, Oborniki Śląskie, Oleśnica and Oława.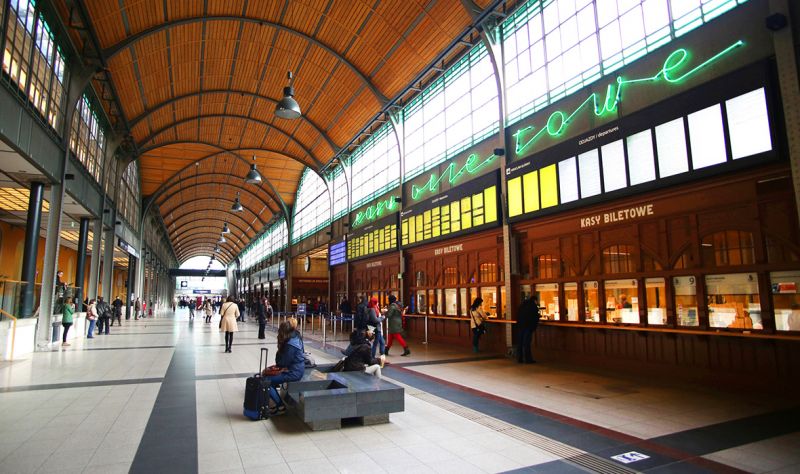 The railways offer fast and smooth transport also within the city limits. The train is the fastest way to get from the city centre to Leśnica, Brochów, Psie Pole, Pracze Odrzańskie and close to the Wroclaw Stadium. In addition, passengers going by train within the city limits buy public transport tickets.
Information:
Polish Railways (PKP) Infoline 19 757
Polish Railways Regional Transport (Przewozy Regionalne) infoline 703 20 20 20
Luggage lockers available upon payment of 12, 14 or 16 PLN (in advance for 24 hrs) in the central and side tunnel
Café, food products, bars and sandwich bars, press, cosmetics, exchange office, fast food bars, pharmacy, post office
There is another argument for choosing rail transport – the Wrocław Główny railway station is an architectural gem. Rebuilt and renovated many times, the building has preserved its most unique and spectacular qualities: the decorative body, the spacious hall for passengers and the roofed platform hall.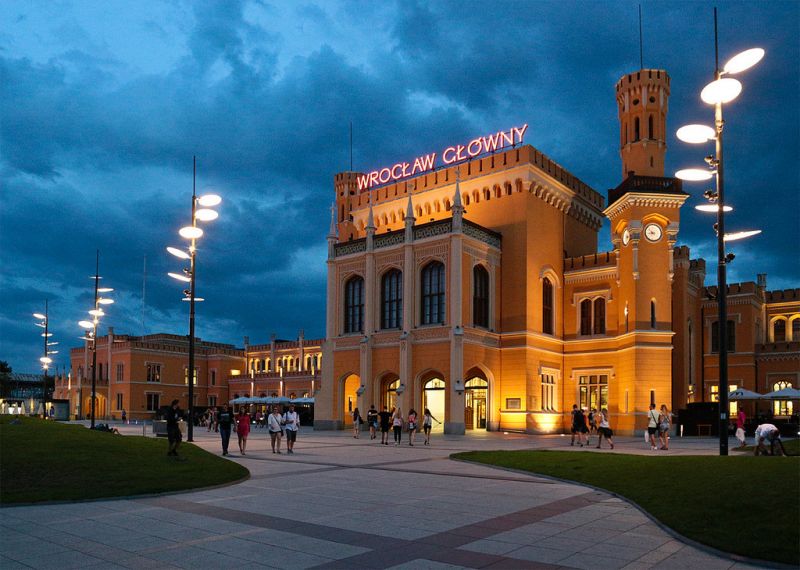 The Wrocław Główny railway station is in the very heart of the city, close to the main bus station, only 15-20 minutes of walking distance from the Market Square. Near the railway station there are also tram and bus stops; in addition, all night bus routes run nearby.
Car parks at the Wrocław Główny Railway Station
Access to the underground car park is from ul. Piłsudskiego and ul. Peronowa. The first 15 minutes of parking are free of charge.
Prices (cash payment, the ticket machine does not give change)
Kiss&Ride car park at the railway station square. Entrance from ul. Piłsudskiego. Prices: 15 min. free, 4 PLN – 1 h
At the Wrocław Główny Railway Station, there are luggage rooms, luggage lockers, bars, kiosks, an exchange office, a pharmacy, and a chapel.
Check how to get to the Wrocław Główny Railway Station by public transport
stops near the Wrocław Główny Railway Station (ul. Peronowa): tram lines 8, 9; bus lines 112, 113, 145, 146
stop near the Wrocław Główny Railway Station (ul. Piłsudskiego); tram lines 2, 5, 11, 0L
stop near the Wrocław Główny Railway Station (ul. Piłsudskiego – Małachowskiego); tram lines 0P, 0L
stop near the Wrocław Główny Railway Station (ul. Dworcowa): bus lines 106, 145, 146, 148, 149, 901, 910, 900 L, 900 P
stop near the Wrocław Główny Railway Station (ul. Dworcowa – Kościuszki) bus line A, 114, 120
stop near the Wrocław Główny Railway Station (ul. Kołłątaja) tram line 2, 5, 8, 9, 11
stop near the Wrocław Główny Railway Station (ul. Stawowa) tram line 15, 31, 32
Check how to get from the Wrocław Główny Railway Station to the airport
bus line 106 (from ul. Dworcowa)